Fabric Panel【Akatsuki】壁掛けきもの帯ファブリックパネル【暁】
Regular price

Sale price

$21.00
日本が世界に誇る魅力を解き放つヴィンテージのきもの帯の生地を、洗練されたインテリアグッズへと生まれ変わらせました。贅沢な和の雰囲気が、朝日や夕日の光、オレンジ色の電球やLEDライトによって、まるで和の宝石「アレキサンドライト」のような輝きを放っています。

たった1枚で、お部屋全体に趣きと温かみをプラス。壁に画鋲1つで取り付け可能な超軽量仕様は、取り扱いが簡単でありながらも、その存在感は言葉を超えた美しさです。リビング、廊下、寝室、お手洗いなど、どんな空間にも調和し、和の粋なアートとして輝きます。

しかも、複数枚組み合わせてお飾りいただくことで、新たな表情が生まれ、お部屋のアンビエンスを一層引き立てます。あなたのお好みやお部屋のテーマに合わせて、ユニークなアレンジをお楽しみいただけます。

これはもはや単なるインテリアグッズではなく、ヴィンテージのきもの帯が奏でる美しさと、現代のライフスタイルに調和した完璧な一品。柄や文様に込められた意味、使われてきた場所や時代など、帯が持つストーリーにも思いを巡らせながら、お部屋に漂う特別な雰囲気を手に入れ、日常に贅沢な癒しとエレガンスをプレゼントしませんか。


【受注生産商品】※写真はイメージ(柄どりの場所により若干の相違がございます)

仕様
帯地:正絹
帯地名:暁
和柄:紗綾形
M サイズ: 34cm x 25cm x 2cm
S サイズ: 28cm x 23cm x 5cm
重量: 150g (±)

Transformed from vintage kimono obi fabric, this interior gem exudes the enchantment of a bygone era. The opulent ambiance, reminiscent of the Japanese gem "Alexandrite," comes to life with the play of morning and evening sunlight, the glow of orange bulbs, and the allure of LED lights.

With just one piece, it effortlessly bestows charm and warmth upon your entire space. Its ultra-lightweight design, easily mounted with a single nail, blends simplicity with an ethereal presence. Whether in the living room, hallway, bedroom, or even the restroom, this piece harmonizes seamlessly, radiating the essence of refined Japanese art.

What's more, combining multiple pieces unveils fresh expressions, enhancing the ambiance of your space. Tailor the arrangement to your taste and room theme for a uniquely captivating experience.

This transcends mere interior décor—it's a harmonious fusion of vintage kimono obi allure and contemporary lifestyle. Embrace the unique atmosphere it brings to your space, offering a touch of luxury and elegance to your everyday surroundings.

Specification
M size: 34cm x 25cm x 2cm
S size: 28cm x 23cm x 5cm
Obi fabric: pure silk
Name of obi: akatsuki
Patterns: Sayagata (The Svastika) |
Weight: 150g approx.

【Made to Order】※photos are image only (design may change slightly depending on the position of fabric used)
※Custom duty and consumption tax
You may be required to pay customs when the products arrive in your country. These charges are payable by the customers, the amount depending on the total amount of purchase.
Hurry, only 1 item left in stock!
Share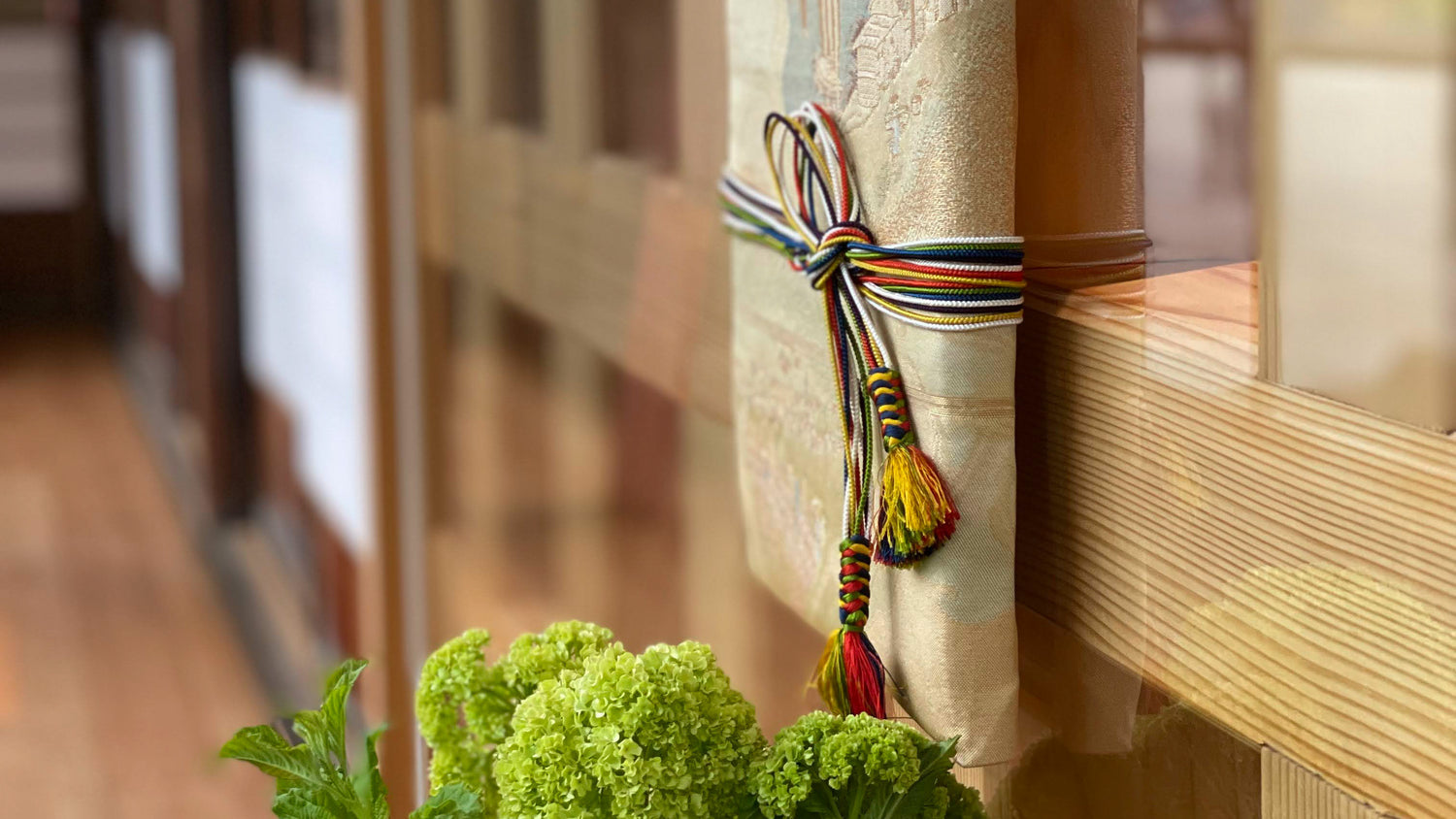 Popular for Japanese restaurants overseas
Add a bit of Tokyo essence at home
海外の日本食店で大人気
きもの帯が持つ和柄や文様の意味やストーリーに思いをはせながら、日常にハイセンスな彩りを取り入れてみませんか?
超軽量設計だから画鋲1つで簡単に取り付け可能。あなたのセンスで何枚か並べて飾るとさらに素敵な空間を演出できます。
Interior fabric panels collection